STAKEHOLDER DIALOGUE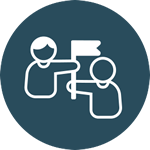 RCDN defines dialogue as a mean to facilitate understanding between two or more parties e.g. local government units (LGUs) and public utility companies (PUCs), associations of LGUs (LGAs) and associations of PUCs (APUCs) having different perspectives towards on an issue of concern related to municipal water supply and sanitation (WSS) service delivery (e.g. regulation).
RCDN stakeholder dialogue is a method for managing change processes through cooperation between the WSS and local government sector aiming at overcoming an issue of concern related to municipal service delivery. To do so, the stakeholders are involved that are relevant to overcoming an issue of concern related to municipal WSS serviced delivery (e.g. LGUs, PUCs, APUCs, LGAs, IFIs).
They exchange different perspectives on the identified issue of concern, and jointly seek solutions. The RCDN stakeholder dialogue offers a safe and inclusive environment allowing to stakeholders to do so.
There are different forms of stakeholder dialogues, some focusing more on consultation and having a regional character (multi-stakeholder forum), others focusing more on implementation and having a national character); all are realised in a structured and facilitated manner.
A RCDN stakeholder dialogue is not a stand-alone event, but a series of events building on each other to
achieve RCDN objectives.